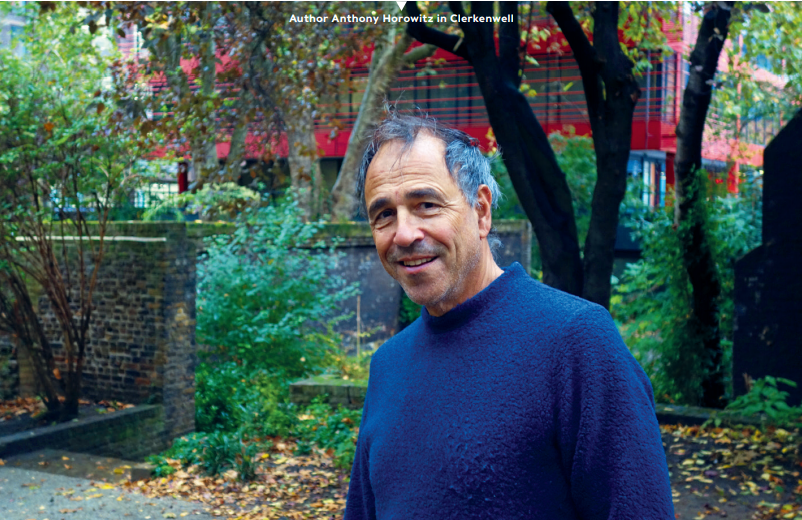 The novelist Anthony Horowitz OBE tells the EC1 Echo about his life in Clerkenwell, what he did during lockdown and how the area inspires his fiction
By Oliver Bennett
"I've lived in Clerkenwell for 13 years, in a converted warehouse in Cowcross Street. I moved here from Crouch End for reasons that I still appreciate today. Its centrality, its ambience, and the way that it's so very different from its neighbours. Clerkenwell doesn't have the commercial brashness of the City, or the slight tawdriness of the West End.
"You can walk to so many places from here. During the first lockdown, once we were allowed out, I went on long and amazing walks with my dog, down to Blackfriars Bridge, through the City and all the way to Greenwich and the Thames Barrier. It made me feel that although it's central, Clerkenwell never seems that far from the country.
"Although there are many modern developments here, Clerkenwell is still infused with a 19th century atmosphere. I'm a great fan of Dickens and the area is full of his echoes. Mr Jaggers in Great Expectations lived here.
Parts of Bleak House were set here. Fagin plied his trade in Saffron Hill and the Bleeding Heart Yard – where I have coffee sometimes. Of course, the Dickens House Museum isn't far [Doughty Street, WC1]. You can really feel the history in the cobbled streets and in squares that still have their old gas lamps. William Wallace was horribly executed here. Huge plague pits were constructed. I love walking in the three little parks close to my home, although it saddens me that recently the Council seems to have become more hostile to dog owners.
"I have used Clerkenwell as a location in quite a few of my novels including Moriarty, my second Sherlock Holmes adventure. I had hoped to go underneath Smithfield to research it: there's a network of passages and cold rooms that stretch all way through to Snow Hill, the site of a forgotten underground station. Unfortunately, I was refused entry on health and safety grounds. I featured Clerkenwell in the fifth book of my Power of Five series: Oblivion. Atticus Pünd, the detective in my new novel, Moonflower Murders, lives just round the corner from me.
"I'm aware that Clerkenwell is on the cusp of great change. We have the arrival of Crossrail and the loss of Smithfield Market, which will be moving out soon. I have mixed thoughts about that. I love its throwback feel but at the same time, I accept that it's difficult to keep a market like this going in the centre of a big city. I'll miss it and worry that Smithfield might turn into another Covent Garden. Clerkenwell has never really been a retail area. Does London really need another one?
"I actually live on Cowcross Street, where cows really did cross before they were sold. Sometimes I go for walks at one or two o'clock in the morning and see all the work going on, the lorries arriving, the butchers in their white coats, the carcasses hanging on hooks; it's amazing to watch. Although it's an anomaly in this day and age, I'll miss it.
"I have the same feeling about many of the buildings. The Farmiloe Building in St John's Street was a true survivor and it was used for many films from Batman to Sherlock Holmes. Now it's been turned into flats.
"Covid has wreaked its damage too. I am sad when local businesses close and particularly miss what was my favourite restaurant, Foxlow. But I have to look on the bright side. If all these changes mean that Clerkenwell becomes more residential again, a 19th-century village inside a modern city, then not all will have been lost."
Anthony Horowitz' latest book 'Moonflower Murders' is out now (Penguin Random House)